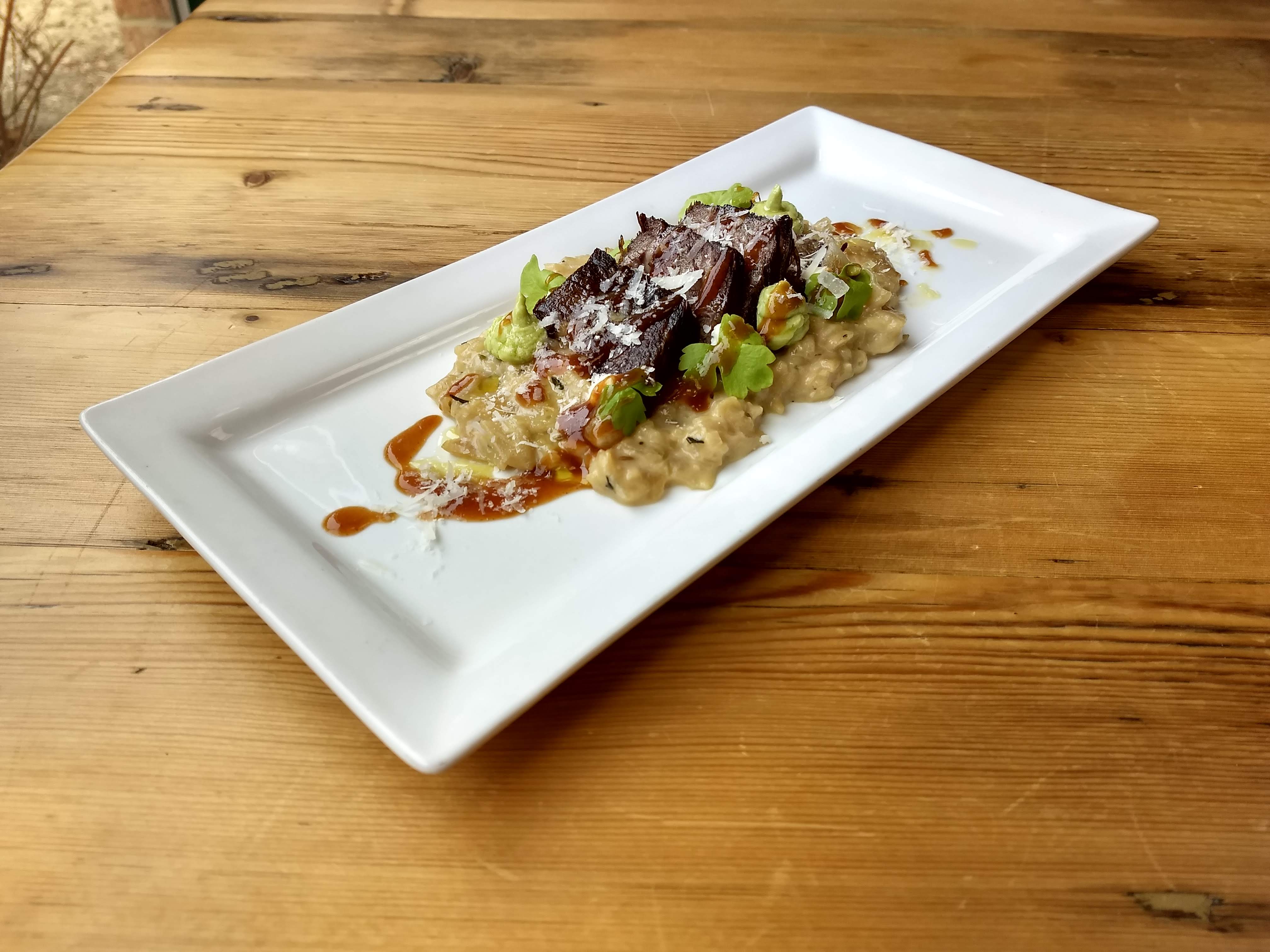 Ingredients for the Risotto:
• 1.5 cups Arborio Rice
• 3 cups Chicken or veg broth
• 3 tbsp Unsalted butter
• 2 tbsp Extra virgin Olive oil
• 2 tsp Chopped garlic
• 2 Large White Onions
• Salt and Black Pepper
• 4 Sprigs of Thyme
For the Risotto
1. Slice white onions into ¼" slices. Add onions to a sauté pan over medium heat. Add salt and pepper to taste and caramelize to desired colour. Add thyme leaves to finished onions. Set aside and add to risotto in the last 7 minutes of cooking.
2. In a stock pot bring to a boil the water and chicken or veg stock. Once boiling reduce the heat so the stock is barely at a simmer.
3. In a pan, add 3 tablespoons of butter, add the garlic and shallots and cook till translucent. Add the raw rice and sauté for a minute and a half.
4. Add one cup of broth to rice and stir frequently. Once the water has been absorbed constantly keep adding a ½ cup of stock at a time. Cook rice till tender and creamy, approximately 18 minutes. Once the rice is well cooked, add the remaining butter to achieve a creamy consistency.
Ingredients for the Beef
• 5 pound bone-in beef short ribs, cut crosswise into 2″ pieces
• Salt and black pepper
• 3 tablespoons canola oil (or other neutral vegetable oil)
• 3 medium onions, chopped
• 3 medium carrots, peeled, chopped
• 2 celery stalks, chopped
• 3 tablespoons all-purpose flour
• 1 tablespoon tomato paste
• 1 750-milliliter bottle dry red wine (preferably Cabernet Sauvignon)
• 10 sprigs flat-leaf parsley
• 8 sprigs thyme
• 4 sprigs oregano
• 2 sprigs rosemary
• 2 fresh or dried bay leaves
• 1 head of garlic, halved crosswise
• 4 cups low-salt beef stock
For the beef
1. Preheat oven to 350°F.
2. Season short-ribs with salt and pepper. Heat oil in a large Dutch oven over medium-high heat. Brown short ribs on all sides, about 8 minutes per batch. Take care not to over load the pan, work in batches if required. Remove browned beef from the pan. Pour off excess fat from the pan.
3. Add onions, carrots, and celery to pan and cook over medium-high heat, stirring often, until onions are translucent, about 5 minutes. Add flour and tomato paste; cook, stirring constantly, until well combined and deep red, 2-3 minutes. Deglaze pan with wine, scrapping the pan bottom to loosen the "fond", all the brown bits that have stuck to the bottom on the pan. Add back the short ribs with any accumulated juices. Add all herbs to pot along with garlic. Stir in stock and wine. Bring to a boil, cover with lid, and transfer to oven.
4. Cook until short ribs are tender, approximately 2-2 1/2 hours.
5. Transfer short ribs to a platter.
6. Strain sauce from pot, spoon fat from surface of sauce and discard, emulsify sauce with an immersion blender; season sauce to taste with salt and pepper. Serve over beef.