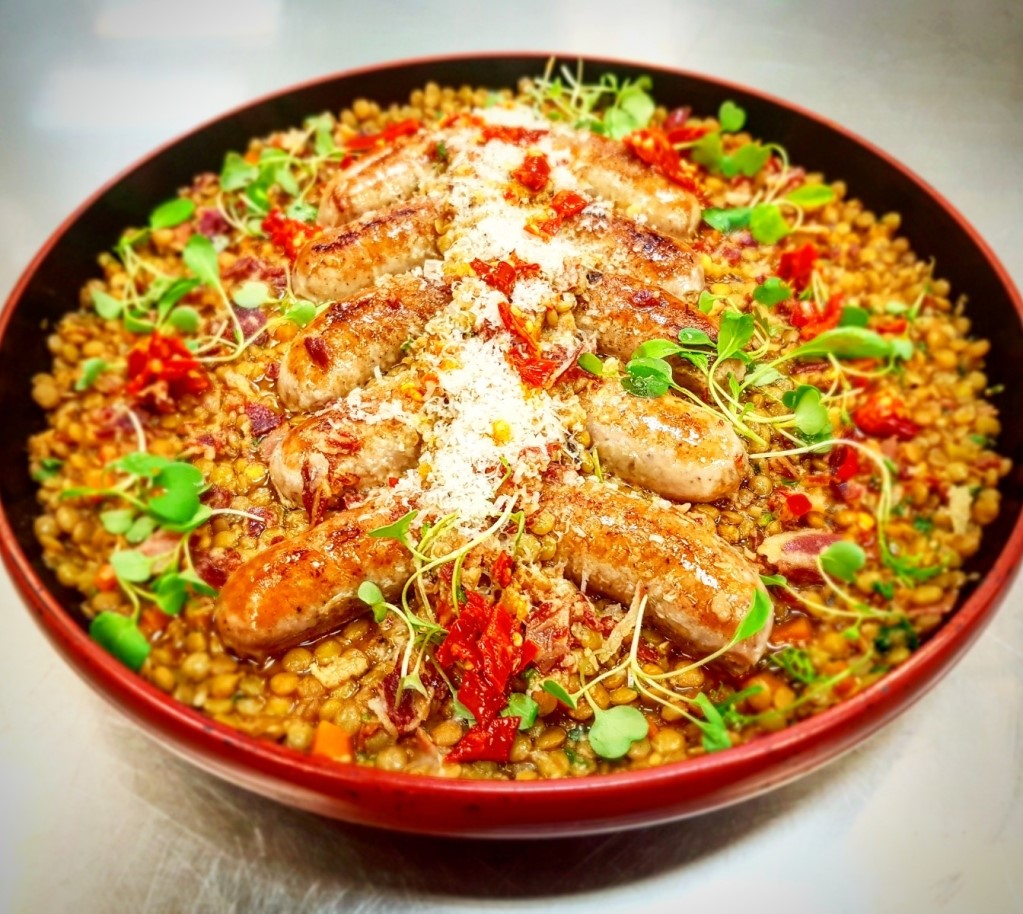 Ingredients:
6 Pieces Sweet Italian sausages
1 Medium white onion, finely chopped
2 Garlic cloves, finely minced
3 tbsp Extra virgin olive oil
2 Bay leaves
1.5 cups Green lentils
1.5 tbsp Tomato paste
1 cup White wine, dry
2 cups Chicken or veg stock
1/3 cup Fresh parsley, flat leaf, chopped
1/4 cup Pancetta, ¼" dice
Directions:
1. In a heavy bottomed saucepan, add the olive oil, pancetta and onions. Sauté until the onions are translucent. About 8 minutes.
2. Add the garlic and sauté for another 2 minutes . At this stage add in the bay leaves and tomato paste. Be sure to cook out the tomato paste for at least 2 minutes.
3. Now add in the wine and deglaze the pan scraping up all the sticky bits at the bottom of the pan. Allow the wine to reduce by half.
4. Add in the lentils and stir making sure all the lentils are well coated. Add in the stock and bring to a boil. Cook on low heat for about 20 minutes or until they are still slightly firm. You may need to add some extra water as needed.
5. While the lentils are cooking, pan sear them in a skillet over medium heat or even better, barbecue them.
6. Once the sausages are fully cooked add them to the lentils mixture. Bring to a low simmer and braise for about 5 to 8 minutes.
7. Season with salt and pepper and garnish with parsley.
8. To Serve. Make a bed of lentils in a serving dish and top with the braised sausages.
9. You could top with a sprinkling if Parmigiana Reggiano and pepperoncino (hot pickled peppers) if you want a spicy kick. Enjoy!!